Music was always circling Tonga Ross-Ma'u: a piano and drum set waiting patiently to be used in the living room, a handful of guitars littered around the house, the sound of his father's band rehearsals filling his ears on some evenings while on other nights the focused silence of composing. These were the elements that filled his childhood and first summoned his desire to learn the art of music.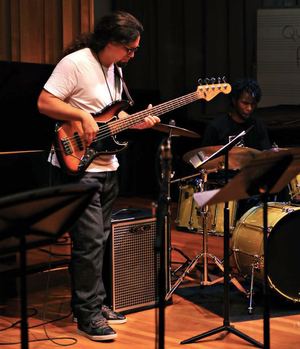 His father's band, Semisi and FulaBula, set up a nurturing environment for his imagination and creativity to grow.  Semisi called his artistic vision "Bula" music: a unique blend of the sounds and attitude of his Polynesian roots merged with reggae, blues, funk, rock, and jazz. Gigs with FulaBula were an open book penned by the individuals of the band, the chapters written by musicians from all walks of life and disciplines, presented to the audience through the sounds of the collective artistic spirit. These were the roots of Tonga's future experience that would spur him to explore what was possible in the world of music. At the ripe age of 13 he began to perform with the band around San Diego, wading in all of the opportunities to learn, soaking in the wisdom of his mentors he now played side by side with.
In high school (The Bishop's School, La Jolla, CA) he was properly introduced to the world of jazz. This was the music he would find a keen connection with and would pursue from then on. But it was not until he was in college that he could dive further into the rabbit hole. During his undergraduate studies (Wheaton College, Norton, MA) his mentors and friends challenged him to dig deeper into the music: to explore its technical and theoretical possibilities, historical context, and cultural ramifications, as well as to create his own unique voice through composition and improvisation.
With his college studies complete he returned to San Diego and continued in his endeavor to evolve. He would soon meet, study under, and then work closely with Kamau Kenyatta, a mentor that constantly challenges Tonga to push his limits in performance and teaching. During this time he would pursue his passion in education and would work with Kenyatta as a teacher's assistant at UCSD (2009-present), an assistant to Jazz Band Director Will Parsons (2008-2013) and then Vladimir Goltsman (2014-present) at The Bishop's School, and a faculty member in the Music Department for California State Summer School for the Arts program (2011-2012).
As a multi-instrumentalist, educator, band leader, and producer, Tonga continues to develop his best musical self, as well as share his knowledge and experience to better educate the communities that surround him. He currently plays with a variety of established San Diego musical acts (Semisi and FulaBula, Joe Garrison and Night People, One Drop) as well as leads/co-leads new projects (Ascent Trio, Bomb Squad). He also works freelance with many different projects around the San Diego/Los Angeles area and teaches private lessons.
Tonga Ross-Ma'u is an artist built by the men, women, musicians, mentors, family, friends, sights, sounds, and spirit of art that has surrounded him throughout his life. It fuels his own music, his ambition, and his passion to educate the community.